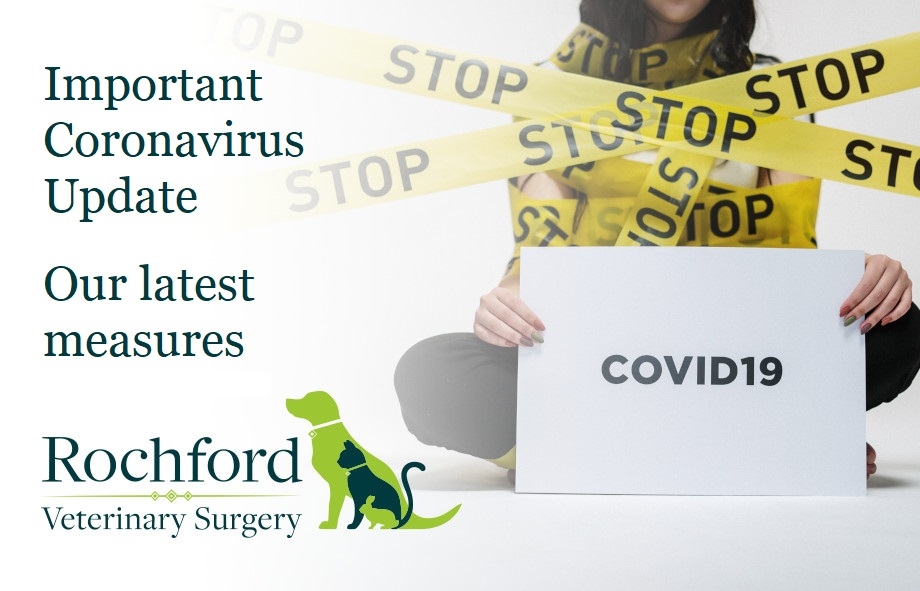 Due to the Coronavirus pandemic here at Rochford Vets, we would like to let our clients know that we are taking it seriously. We are taking the following steps, in line with the British Veterinary Association advice and Royal College of Veterinary Surgeons guidance, to ensure the safety of our staff and clients. We will endeavour to keep offering our usual standard of care during the coming months.
If you are self-isolating or showing signs of coronavirus and your animal needs to be seen please contact the surgery beforehand to let us know and arrange for someone else to bring them in. Please do not come in yourself. Depending on the problem a video or phone consult may be arranged.

We will no longer be open for evening surgery probably until mid-September time, the practice will now close at 5.30 pm on weekdays. Saturday times will be as usual.

Dog and Cat Vaccinations that are overdue by more than 2 months are able to be booked (up to a  3 months overdue gap there is still usually significant protection present ). 

Rabbit vaccines are able to be booked in as normal.

If you would prefer you can be offered a phone or video consultation (charged) and can be dispensed medication via this way if needed and the Veterinary surgeon feels appropriate.

We are happy for an additional charge to post out repeat medications and food, this is to avoid any unnecessary trips to the surgery.

Please do still only come to the surgery where necessary.
When visiting the surgery
When you arrive please call reception to let us know you are here.

Owners are not permitted into the building and clinical history will be taken regarding your pet in conversation with you in the car park.

We are asking to only have one or two owners present with each pet.

Pets will be collected from the car park and taken into the building to be examined. The vet or nurse will then come back out to discuss the case with you.

We would ask for you to respect our staff and other clients by maintaining at least 2 meters distance where possible and wearing a mask while on the premises, including outside.

For payment a member of staff will come out to you in the car park. When paying please pay by card where possible.
These measures are to protect your health and the health of our staff.
Thank you for your continued support.
Last updated 10th August 2021